I GOT A RAISE!!!  
Omg, guys!  Ok. Technically, it's not a raise. It's a "salary/equity adjustment".
An equity adjustment is a permanent increase to the base salary that may be granted to an employee under certain circumstances, such as increased duties that do not warrant a reclassification or a significant salary lag to comparable internal positions or the local labor market.
It's a little over 12%, but, combined with the yearly cost of living adjustment I got a couple of months ago, my base salary will be about 15% over what I was making last year.  I. am. stunned! I didn't think it was even possible. I'm still not 'well paid' for my industry by any stretch, but I'm at least juuust inside the edge of market rate now. 
How did this happen?
My manager just dropped the news during our scheduled weekly check-in meeting out of the blue. I had no idea any of this was happening. My manager felt bad about my below market salary, but really couldn't do anything about it because salaries are set by division heads and HR. My manager was not a part of the discussions of salary when I was hired, and I did not negotiate well because I was unemployed and desperate at the time.
My division is doing some job title reclassification with HR and there are plans to hire someone else in my role to work with me at my location. This gave my manager an opening to push the higher ups to get my salary adjusted, otherwise I'd be making noticeably less than a newer, more junior hire.
I don't know if my manager picked up on the fact that I've been interviewing for other jobs as the reason I'd been missing work recently, but the timing of this adjustment is perfect. I feel less inclined to leave now. In leaving for another company, I always worry about the unknown of a new working environment when I still have so much debt. I worry about the possibility of ending up in an even more stressful situation. Plus, the benefits and flexibility are rather good here. Don't get me wrong. I'm still going to keep my eyes open, but I don't feel pressured to jump elsewhere. I can see myself staying for at least for another year or so, unless some amazing job falls in my lap.
What to do with the new $$$?
Well, first, I'm not getting too excited since about half of the raise will go to taxes and other required deductions off the top. I will know how much I get to keep in my paycheck once the new pay rate kicks in, probably as early as the next pay cycle. I'm not sure what to do with the money once it starts trickling in, though.
Right now, I know I have two options… DEBT or ROTH IRA
Do I use the extra money to throw at my student loan debt or do I put it toward funding my Roth IRA?
Debt – My interest rate is now approaching 5%, which is the cutoff for when it makes sense mathematically to prioritize debt.  I need this debt gone so there is the emotional benefit too. Without the debt payment, I can finally afford my own place and save up a fully funded 1 yr emergency fund. You know, actually move on with life.
Roth IRA – Investment savings are the path to retirement. The more I put in, that runway to financial independence shortens, even if inch by inch. I have been contributing extremely little to my Roth in recent years.
You may ask, ¿Por qué no los dos?  And you'd have a great point. I may indeed end up doing both – maybe something like 50% toward student loans, 30% toward Roth IRA, and 20% toward my spending allowance? I know I should be shrinking my monthly spending, not increasing it, but I still haven't found a way to keep my allowance spending below it's current limit.  I'll keep thinking about it.
.
Regardless of what I decide, having a few dollars more in each paycheck is cause to celebrate.
This is me at work right now…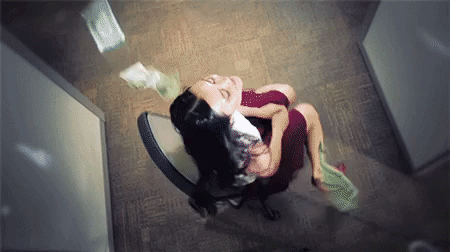 .
Have you ever gotten a surprise pay increase? What did you do with it?
.
"Debtor's prison is real, and opportunity cost is a bitch." (DDSW Archives)