Work Update
I had my annual review meeting with Manager, who apparently, and miraculously, has no plans to fire me, despite what I perceive to be recent decreased performance. I'm getting a small cost of living salary increase of 1.7% and my annual bonus! I'll be getting my bonus soon. I was really nervous going into the meeting as I didn't know what to expect or if I'd have a job coming out of it, but was relieved that it went as well as it did. I have improvements to make, but I still have a job.
In fact, I've been assigned two new projects. Thankfully, these projects will be in line with the old workstyle, so I expect I'll feel comfortable running them. I'm planning to stay where I am for the immediate future. It won't be easy at all, but if I can somehow grind it out here for one more year and pay off / down this debt, a lot more avenues will open up to me starting next year. Newish Leader (my manager's manager) has been more hands-off lately, and this trend should continue. I plan to stay under Newish Leader's radar as much as possible.
I just need to be able to survive for one more year before I can escape for good.      
Debt Update
Given that my work situation no longer appears to be in immediate peril, I'm continuing to make payments toward my debt. I just made a $1043.15 payment, which brings my balance to $31,700.  I'm close to being out of the thirties!!
The Tax Man Cometh
Is anyone else feeling taxed?   I am, but in entirely different ways and for entirely different reasons. LoL.
I should be getting a refund this year, as usual.  I know it's not good to get a refund (interest-free loan to the government, etc.), but for so long as I'm in debt, I need the extra tax withholding to act as a forced savings account.  I'm curious to know what the Tax Scam Bill passed last year will do to my refund. My tax bracket did not change, so I expect little will be different for me. If my refund is significantly reduced, I'll be pretty pissed, though.
Even still, with no mortgage, kids, etc., I feel I pay too much in Federal and State/Local taxes. I can't imagine what people who make a lot of money have to pay each year. Given the current tax laws, probably less than me. Sigh.
This is me to the Tax Man: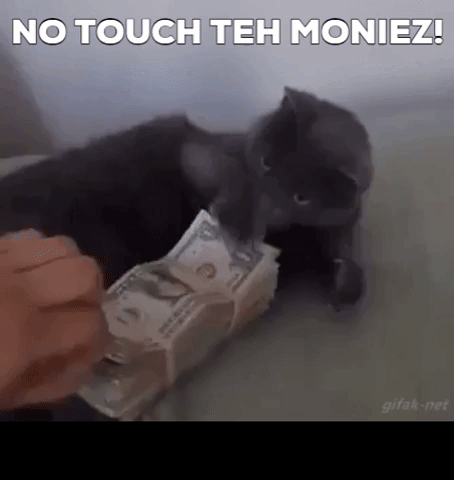 Anyway, I'm looking forward to getting my refund. I'll be filing my taxes soon, once I get one or two more tax docs in the mail. Hopefully, the people at the IRS aren't too swamped after the shutdown.
Hopefully, the government does not shut down again in a couple of weeks. (Ugh. I can't believe how people's livelihoods are being held hostage over political fights in this country.)
I expect my super basic tax forms are processed automatically, but who knows…
Will I get my refund any time soon?
We'll see…
.
"Debtor's prison is real, and opportunity cost is a bitch." (DDSW Archives)